FAQ
What is Tangerine?
Tangerine is the first Bio Jewelry brand designed to work with 100% recycled materials. The heart of our jewelry are the natural elements that we mostly accuse from different parts of the country.
What kind of jewelry does Tangerine retail?
We cover a versatile range, from everyday essentials to party wear. A broad spectrum of moods from dainty to bold, our jewellery is a fine curation all handcrafted and plated in 24k gold.
What material is Tangerine jewelry made of?
Our jewelry is made up of 100% recycled material. The heart of the jewellery are the natural elements sourced from different parts of the country. These include seeds, fruits, flowers, wood etc, which is clad in 24K gold after goes through a six stage process.
Is the product image shown on the website accurate?
The product may vary a little in shape and size as Tangerine deals in Bio jewellery and the natural elements can not be identical. However, Tangerine makes sure to deliver the product closest to its product description on www.thetangerinejewelry.com.
How can I get more information on a product?
We're always delighted to be of help, feel free to get in touch with us on thetangerinejewelry@gmail.com
How do I place an order on thetangerinejewelry.com?
The process is suited to your convenience, simply add the product to the cart and click on the checkout icon/option. Enter your shipping & billing details along with the final payment. We will take care of the rest!
I'm confused about what jewellery to buy, can someone assist me?
It would be a tremendous pleasure for us to assist you in making your decisions. We love styling our customers, connect with us on thetangerinejewelry@gmail.com and we'll get back to you as soon as possible.
Can I cancel my order?
As each piece is handcrafted exquisitely with valued time, effort and cost, just for you, once placed the order cannot be cancelled.
Are there any shipping charges?
We provide free shipping on all our orders across India.
How long does Tangerine take to ship?
We require 7 to 10 days to finely handcraft your order. However the Ready to Ship pieces get dispatched in 48 to 72 hours.
Can I use more than one promo code on my order?
We love our promo codes and we know you do too, however only one single code can be used at a time.
My promo code is not working, what should I do?
We'll be happy to help you through this. Get in touch with us on email: thetangerinejewelry@gmail.com
What is Bio Jewelry?

Bio Jewelry is about designing, conceptualizing and using technologies to exalt raw materials which are composed of natural elements.Tangerine is the first Bio Jewelry brand designed to work with 100% recycled materials. The heart of our jewelry are the natural elements that we mostly acquire from different parts of the country.The things that would normally be discarded are eventually used to make beautiful jewelry. The elements undergo a six stage process to reach its final form.
Who We Are

We are the avid crusaders of sustainable fashion. We are an ethically and consciously crafted label created in India with a green heart. We celebrate the treasures of nature and everything eco-friendly, but by no  means ordinary.

We consciously eschew the socially and environmentally harmful ways of creating jewelry and provide an alternative, as a symbol of the new generation of empowering women. 
What Do We Do

A unique first step towards our larger vision. We have taken it upon ourselves to unlock the beautiful gift that nature has to offer with a product we love and connect best with : Jewelry.

Tangerine is a love child of our two favorites : Design Innovation & Sustainability. Our brand shall almost always revolve around sustainability in style and finding it a much deserved, long awaited spot.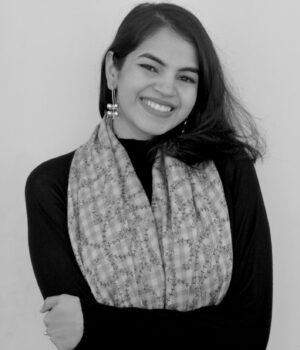 MEET THE FOUNDER
A passion for jewelry and love for nature is what brought a father-daughter duo, J. P. Meena & Shristi Ghunawat, together to launch Tangerine, a bio jewelry brand in 2021. 
Shristi Ghunawat, the creative director of Tangerine, did her graduation from the National Institute of Fashion Technology, New Delhi. She went on to pursue her masters in Design Management from Birmingham City University, where she predominantly focused on jewelry design and sustainability. 
The knowledge she gained about the existing jewelry industry and the ingenuity of her father lead them to take a bigger step towards making the jewelry and its process more sustainable and thus, Tangerine was born.