Shipping Policy
International Delivery – Charges and Timing
If you are placing an order form countries other than United Kingdom, Unite Nations, Australia, UAE, Singapore and Sri Lanka, please contact us at +919717712980 or email us at thetangerinejewelry@gmail.com.
We ship our products worldwide. We provide free shipping for all international orders.
We calculate the shipping ETA from the time your order is placed, so your International order may take upto 10-12 days from the date on your order confirmation. Saturdays, Sundays and public holidays are not set as business days for standard deliveries.  International shipments are not eligible for returns or exchange. In rare cases, a slight delay might be caused due to any govt. interventions or natural causes, etc.
All orders placed on Tangerine are dispatched through our own courier partners including the likes of Delhivery, Pidge, BlueDart, UPS, DHL, etc.
Contact us to receive updates on shipping, promotions and other related information.
Domestic Delivery – Charges and Timing
•  We offer free shipping for all domestic orders.
•  We'll get your order to you as soon as possible! We're taking extra safety precautions with packaging and delivery but we will still aim to have your order with you within 7 working days.
•  Incase you have not received your order, we request you to raise the concern within 2 days of receiving the delivery confirmation notification from Tangerine.  
Within India, we ship through registered courier companies Delhivery and Shiprocket. Our delivery partners will attempt to deliver the package thrice before they return it to us.
Please provide a mobile number that you are available at, and your complete shipping address including the pin-code. This will help us ensure smooth delivery of your order. At the time of delivery, if the packaging looks damaged or tampered, please do not accept the package.
Important Shipping Information
Order cut-off times are provided as guidelines only, and do not take into account possible delays caused by payment authorization. Estimated delivery times are to be used as a guide only and commence from the date of dispatch.
We are not responsible for any delays caused by natural calamities and unavoidable circumstances.
We are unable to redirect orders once items have been dispatched.
Currently, each order may be shipped only to a single destination address. If you wish to ship products to different addresses, you shall need to place multiple orders.
We make our best efforts to deliver each item in your order within 7 working days of your placing the order, inclusive of processing time. However, in some cases, we may take longer, to ship the order as we may have to produce/procure it.
While we shall endeavor to ship all items in your order together, this may not always be possible due to product characteristics, or availability.
To ensure that your order reaches you in the fastest time and in good condition, we only ship through reputed courier agencies.
If you believe that the packaging is tampered with or damaged, before accepting delivery of the goods, please refuse to take delivery of the package, and call our help desk +91 9717712980 or email us at thetangerinejewelry@gmail.com, mentioning your order reference number. We shall try our best to ensure that a replacement delivery is made to you at the earliest.
What is Bio Jewelry?

Bio Jewelry is about designing, conceptualizing and using technologies to exalt raw materials which are composed of natural elements.Tangerine is the first Bio Jewelry brand designed to work with 100% recycled materials. The heart of our jewelry are the natural elements that we mostly acquire from different parts of the country.The things that would normally be discarded are eventually used to make beautiful jewelry. The elements undergo a six stage process to reach its final form.
Who We Are

We are the avid crusaders of sustainable fashion. We are an ethically and consciously crafted label created in India with a green heart. We celebrate the treasures of nature and everything eco-friendly, but by no  means ordinary.

We consciously eschew the socially and environmentally harmful ways of creating jewelry and provide an alternative, as a symbol of the new generation of empowering women. 
What Do We Do

A unique first step towards our larger vision. We have taken it upon ourselves to unlock the beautiful gift that nature has to offer with a product we love and connect best with : Jewelry.

Tangerine is a love child of our two favorites : Design Innovation & Sustainability. Our brand shall almost always revolve around sustainability in style and finding it a much deserved, long awaited spot.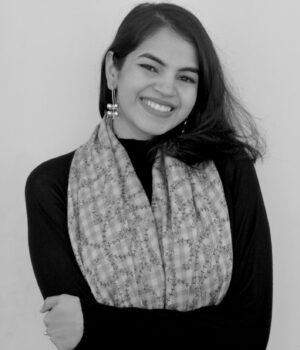 MEET THE FOUNDER
A passion for jewelry and love for nature is what brought a father-daughter duo, J. P. Meena & Shristi Ghunawat, together to launch Tangerine, a bio jewelry brand in 2021. 
Shristi Ghunawat, the creative director of Tangerine, did her graduation from the National Institute of Fashion Technology, New Delhi. She went on to pursue her masters in Design Management from Birmingham City University, where she predominantly focused on jewelry design and sustainability. 
The knowledge she gained about the existing jewelry industry and the ingenuity of her father lead them to take a bigger step towards making the jewelry and its process more sustainable and thus, Tangerine was born.