Returns & Cancellation
Before you return a Tangerine product, please take a moment to understand how our products are made. All of our products are created out of natural elements and are handcrafted by traditional craft persons in India, resulting in each product being unique and slightly different from each other. The product you may receive might be slightly different from the product you see on our website as no two elements are the same. All our products go through quality control before shipping.
 Exchanges will ONLY be accepted if your order is damaged in transit or you have received the incorrect product or if you have sizing issues. In case your order is damaged in transit or you have received the wrong product you may return them in exactly the way in which they were received (unworn, with original packaging and the packaging must not be tampered with.
 STEPS TO MAKING AN EXCHANGE
1. Please inform us within 24 hrs of receipt of order. You must email thetangerinejewelry@gmail.com to notify us. 
2. You'll need to arrange for the delivery of the damaged/incorrect product to be returned to us you are required to send us a photograph of the product, then it is up to the discretion of the Tangerine QC team to decide whether product is approved for return.
3. Once we have received your product and our Quality Control team has authorized the return for the damaged/incorrect product , we will arrange for the dispatch of the fresh product.
We are not responsible for any lost or damaged packages. We are not liable for any returns that we were not notified about first.
REFUNDS WILL BE DONE IN THE FOLLOWING CASE:
1. Packages lost in transit. In such a case, the refund will be processed in 12-15 days for domestic orders and 30-34 days for international orders.
NO REFUNDS WILL BE GIVEN IN THE FOLLOWING CASES:
1. Incorrect or outdated delivery address. 
2. Incorrect address format including any form of a PO Box address. 
3. After 3 failed delivery attempts by our respective courier agent.
4. Package refused by recipient.
5. Sizing issues. Thus please review our size guides carefully before making your purchase. 
6. Products returned in a used or damaged condition. 
7. Minor colour and design variation. All products are handmade and use natural stones so there may be some variation from the photographs on our website. 
8. If the jewellery is not faulty or damaged.
PLEASE NOTE: A package marked as delivered by the courier partner is not eligible for any refunds
CANCELLATION OF ORDER:
As each piece is handcrafted exquisitely with valued time, effort and cost, just for you, once placed the order cannot be cancelled.
What is Bio Jewelry?

Bio Jewelry is about designing, conceptualizing and using technologies to exalt raw materials which are composed of natural elements.Tangerine is the first Bio Jewelry brand designed to work with 100% recycled materials. The heart of our jewelry are the natural elements that we mostly acquire from different parts of the country.The things that would normally be discarded are eventually used to make beautiful jewelry. The elements undergo a six stage process to reach its final form.
Who We Are

We are the avid crusaders of sustainable fashion. We are an ethically and consciously crafted label created in India with a green heart. We celebrate the treasures of nature and everything eco-friendly, but by no  means ordinary.

We consciously eschew the socially and environmentally harmful ways of creating jewelry and provide an alternative, as a symbol of the new generation of empowering women. 
What Do We Do

A unique first step towards our larger vision. We have taken it upon ourselves to unlock the beautiful gift that nature has to offer with a product we love and connect best with : Jewelry.

Tangerine is a love child of our two favorites : Design Innovation & Sustainability. Our brand shall almost always revolve around sustainability in style and finding it a much deserved, long awaited spot.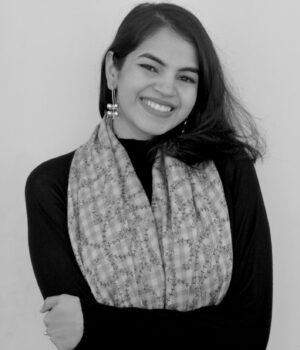 MEET THE FOUNDER
A passion for jewelry and love for nature is what brought a father-daughter duo, J. P. Meena & Shristi Ghunawat, together to launch Tangerine, a bio jewelry brand in 2021. 
Shristi Ghunawat, the creative director of Tangerine, did her graduation from the National Institute of Fashion Technology, New Delhi. She went on to pursue her masters in Design Management from Birmingham City University, where she predominantly focused on jewelry design and sustainability. 
The knowledge she gained about the existing jewelry industry and the ingenuity of her father lead them to take a bigger step towards making the jewelry and its process more sustainable and thus, Tangerine was born.