Privacy Policy
Introduction
This privacy policy is for this website www.thetangerinejewelry.com and controls the privacy of the users who choose to use it. We want our services to be safe and secure for our users. Uniform practices for collecting, using, disclosing, storing, retaining, disposing, accessing, transferring or otherwise processing such information assists Tangerine to process Personal Information fairly and appropriately, disclosing it and/or transferring it only under appropriate circumstances.
This Privacy policy tells you how we use your personal information collected through "www.thetangerinejewelry.com". Please read this Privacy policy before using the website www.thetangerinejewelry.com or submitting any personal information. This policy will be updated subject to any changes in information collection, activities performed or any applicable regulations. You are encouraged to review the Privacy policy whenever you visit the "www.thetangerinejewelry.com" to make sure that you understand how any personal information you provide will be used.
Collection of Information
Users contacting this website and/or its owners do so at their own choice and provide any such personal details requested at their own risk. Tangerine collects, processes, and retains information about you when you visit our "www.thetangerinejewelry.com". You may choose to provide us with information, such as your, email address, company information, street address, telephone number, or other information, to access protected information on "www.thetangerinejewelry.com" or so we can follow up with you after your visit. Personal Information may include, but is not limited to:
i. Your name
ii. Email addresses
iii. Telephone numbers
iv. Country, City and State
Login/Sign ups
Tangerine keeps track of your information to offer you the best possible experience. A data subject has to provide email address is the mandatory "Personal Information" during registration (sign-up). Post this registration, Tangerine will be able to access your account every time you visit the Website as long as you are logged in as a user. The customer also have to provide other Personal Information (instance -phone number, email, billing and shipping addresses) before completing the first purchase.
Once you register with Tangerine and sign in to the services, Tangerine can automatically receive and records information on our server logs from your browser including your IP address, cookie information and the page you requested. 
Cookies
Cookies are useful for enabling the browser to remember information specific to a given user. We place both permanent and temporary cookies in your computer's hard drive. The cookies do not contain any of your personally identifiable information. If you leave a comment on our site you may opt-in to saving your name, email address and website in cookies. These are for your convenience so that you do not have to fill in your details again when you leave another comment. These cookies will last for one year.
If you visit our login page, we will set a temporary cookie to determine if your browser accepts cookies. This cookie contains no personal data and is discarded when you close your browser.
When you log in, we will also set up several cookies to save your login information and your screen display choices. Login cookies last for two days, and screen options cookies last for a year. If you select "Remember Me", your login will persist for two weeks. If you log out of your account, the login cookies will be removed.
Commitment to data security
Your personally identifiable information is kept secure. Only authorised employees, business partners, affiliates/subsidiaries, clients, vendors and other third party providers (who have agreed to keep information secure and confidential) have access to this information. Tangerine ensures that our supplier employs industry standard security measures to ensure the security of information through legally binding terms and conditions. However, users of our "www.thetangerinejewelry.com" are responsible for maintaining the security of any password, user ID, or other form of authentication involved in obtaining access to password protected or secure areas of any Workday websites. Access to and use of password protected and/or secure area of "www.thetangerinejewelry.com" is restricted to authorised users only. Unauthorised access to such areas is prohibited and may lead to criminal prosecution.
Who we share your data with
Tangerine will collect adequate, relevant and necessary Personal Information, and will process such information fairly and lawfully for the purpose it is collected. The purpose of collection will be specified not later than at the time of data collection, or on each occasion of change of purpose.
Tangerine does not share, sell, rent, or trade personal information collected through its "www.thetangerinejewelry.com" with third parties for their sole promotional purposes or as otherwise outlined in this Privacy Policy. Tangerine may share information with third party service providers contracted to provide services on our behalf for processing to provide your employment related services and benefits and other business purposes.
How long we retain your data
Tangerine Personal information shall be retained only as long as necessary for the fulfillment of the stated purposes, and should be disposed thereafter. We will retain your information for as long as your account is active or as needed to provide you services. If you wish that we no longer use your information to provide you services, contact us via the information provided in section 11 of this Privacy policy. We will respond to your request to within 30 days of receipt of the request. 
For users that register on our website (if any), we also store the personal information they provide in their user profile. All users can see, edit, or delete their personal information at any time (except they cannot change their username). Website administrators can also see and edit that information.
What is Bio Jewelry?

Bio Jewelry is about designing, conceptualizing and using technologies to exalt raw materials which are composed of natural elements.Tangerine is the first Bio Jewelry brand designed to work with 100% recycled materials. The heart of our jewelry are the natural elements that we mostly acquire from different parts of the country.The things that would normally be discarded are eventually used to make beautiful jewelry. The elements undergo a six stage process to reach its final form.
Who We Are

We are the avid crusaders of sustainable fashion. We are an ethically and consciously crafted label created in India with a green heart. We celebrate the treasures of nature and everything eco-friendly, but by no  means ordinary.

We consciously eschew the socially and environmentally harmful ways of creating jewelry and provide an alternative, as a symbol of the new generation of empowering women. 
What Do We Do

A unique first step towards our larger vision. We have taken it upon ourselves to unlock the beautiful gift that nature has to offer with a product we love and connect best with : Jewelry.

Tangerine is a love child of our two favorites : Design Innovation & Sustainability. Our brand shall almost always revolve around sustainability in style and finding it a much deserved, long awaited spot.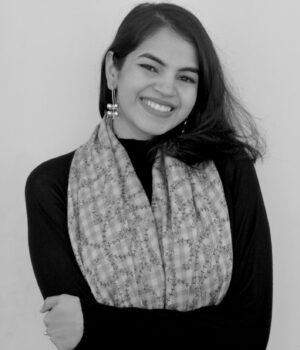 MEET THE FOUNDER
A passion for jewelry and love for nature is what brought a father-daughter duo, J. P. Meena & Shristi Ghunawat, together to launch Tangerine, a bio jewelry brand in 2021. 
Shristi Ghunawat, the creative director of Tangerine, did her graduation from the National Institute of Fashion Technology, New Delhi. She went on to pursue her masters in Design Management from Birmingham City University, where she predominantly focused on jewelry design and sustainability. 
The knowledge she gained about the existing jewelry industry and the ingenuity of her father lead them to take a bigger step towards making the jewelry and its process more sustainable and thus, Tangerine was born.